If you've been following the news then you'll be aware that FinTech in Lithuania has been soaring – they've been making moves to position themselves as one of the world's prominent FinTech hubs and the largest in the EU in terms of licensed companies. At first, Baltic state Lithuania, with a population of 2.7 million people and a GDP of $54 million may not seem like the future of FinTech, but, according to The Fintech Landscape in Lithuania 2020-2021 a total of 230 FinTech firms operate in the country, employing over 4,000 people — a considerable increase just in three years, where 117 operated in the country.
A report produced by the Lithuanian consultancy firm Versli Lietuva in 2018, revealed that the Baltic state saw a 305% increase in ICO investment in just one year, with up to $570 million raised. The same report also detailed that cryptocurrency transfers involving Lithuanian firms reached a whopping $762 million between 2017 and 2018.
Statistics have continued to rise in the Baltic state. Despite the Covid-19 pandemic in 2020 Lithuania´s FinTech industry grew by 18%, demonstrating its leadership in the sector.
Why Lithuania?
Aside from its impressive landscapes, rich history and cheap beer, why is FinTech in Lithuania attracting new startups?
1. Access to the European Market
Hedging risks against what is shaping up to be a messy divorce between the UK and the EU has been at the forefront of many companies mind's when looking to maintain access to the single market. A FinTech license from Lithuania, an EU member, would give the a company access to 448 million customers, 25 million SMEs and 6740 banks and credit unions.
Below: Extract from Invest Lithuania
2. Auspicious Regulatory Environment
In an effort to make the country an attractive choice for FinTechs, the Bank of Lithuania has set up a regulatory sandbox, allowing to launch and evaluate their products in a limited market environment. Whilst in the sandbox, the companies do not have to be fully licensed. In addition to this, companies using the Lithuanian sandbox are not subject to regulatory sanctions within the first year of operating within the country while remote video Know Your Customer (KYC) rules are in place which allow firms not based within Lithuania to open an account in the country without maintaining a physical presence there. For more information on Sandboxes, see our previous article: What actually is a Regulatory Sandbox.
3. Growing Talent Pool and Facilities
Lithuania is ranked 8th in the world for graduates enrolled in higher education (Bloomberg), with the working population possessing an English language proficiency of 84%. Furthermore, Lithuanians are extremely tech-savvy, with 31,500 people working in IT services.
A budding, innovative and multilingual workforce with cheap office space – here you have a catalyst for FinTech in Lithuania. You can see why some of the most innovative companies in the world have chosen Vilnius, Lithuania, as their new EU hub.
The Mercer Cost of Living Index found that it is one of the five least expensive cities in the EU and average office space in Vilnius is only $17.14 per sq/m. The city also has the fastest public Wi-Fi connection in the entire world for both average upload and download speeds, according to a study by telecommunications company Ooma.
4. Innovative Government
Former Lithuanian President Dalia Grybauskaitė, as a strategy to attract foreign investment, introduced new laws and tax relief measures. Its corporate tax rate is the third-lowest in the EU and its personal income tax rate is the second-lowest in the union, while start-ups are able to obtain an e-money or payment license in just three months, the quickest in the EU. Furthermore, its initial capital requirements for "lite" bank licenses — for challenger banks — are five times smaller than in other EU countries and can be obtained in just six months, ideal for start-ups. Even for more traditional, established banks, the country currently only demands a $1.14 million investment — again, the smallest in the EU in order to encourage financial houses to relocate (Forbes).
Who is Already There?
December 2018 saw Lithuania grant Google Payment an electronic money institution license, authorizing it to issue and redeem electronic money as well as provide payment services. FinTech in Lithuania has also attracted the likes of Revolut, IBM, Bankera and Nasdaq who have all established a presence in the country. Spain's Rebellion Pay has become the first Spanish company to obtain a Lithuanian banking license and have announced plans to develop their eastern European presence.
This is Lithuanian Fintech Map 2021 by Rockit, The Fintech Landscape in Lithuania 2020-2021, Invest Lithuania, Feb 2021.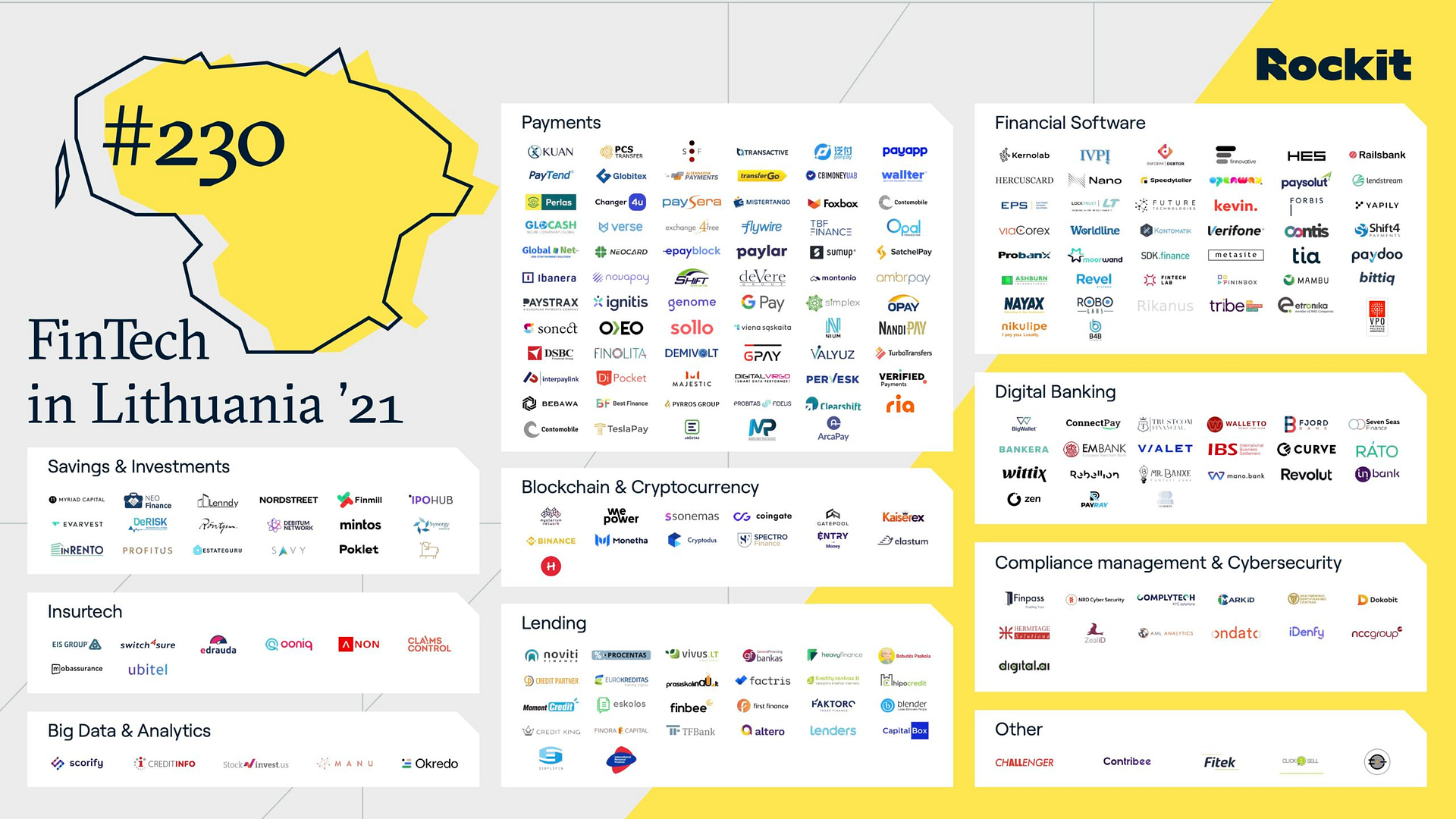 This is likely to be just the beginning for Lithuania…