Andreessen Horowitz the venture capital firm based in Silicon Valley, California in partnered with Glimpse a software company, published this week the article "Charting the COVID effect on Fintech". This post analyzes growth potential through public online activity. People click, review, discuss, comment, like, search, tag, download, share, and purchase. Looking at these actions across all keywords allows to understand the rise of a trend. 
The resulting data uncovered a trove of insights across liquidity and lending, trading, small business impact, and consumer banking, all of which we delve into below.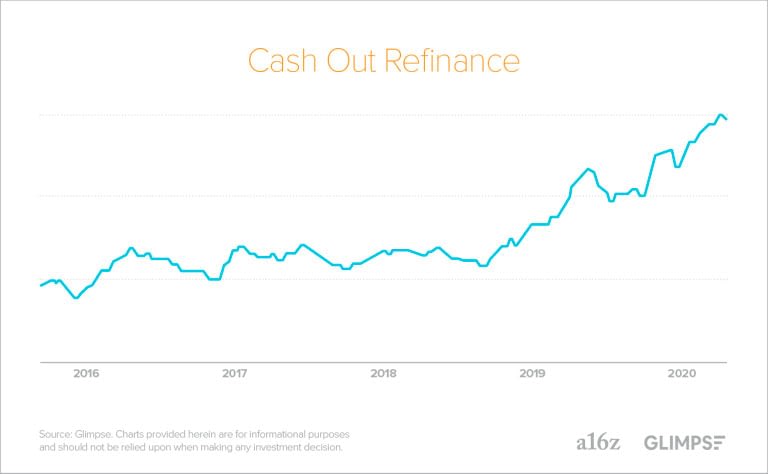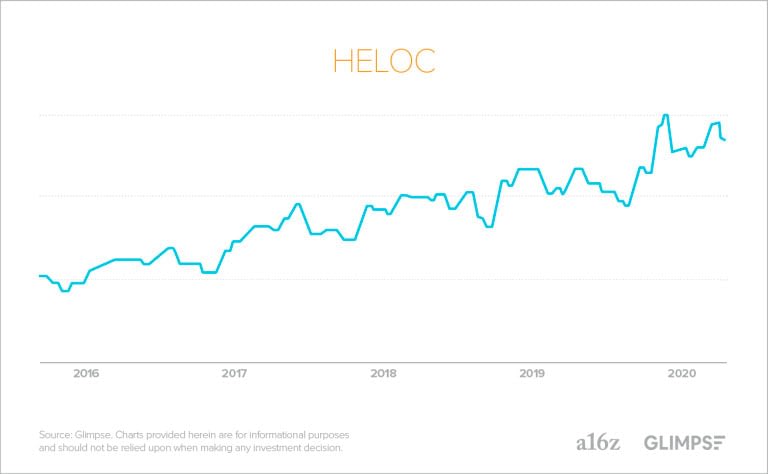 For those fortunate to keep their jobs, there has never been a better time to be a borrower—rates are at historic lows. Home loan financings have surged for refinances, cash out refis, and home equity lines of credit (HELOCs), even as overall mortgage forbearance rates also spiked to post-recession highs. Savings rates have spiked, since there is little to spend money on in a lockdown economy.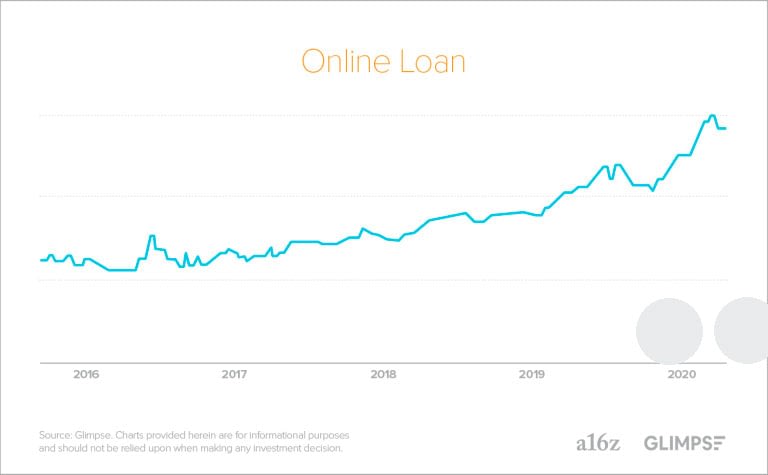 Somewhat surprisingly, for the less fortunate loan charge-offs have yet to materialize. A charge-off occurs when a consumer fails to make payment for a period of time—usually six months—and the lender writes off the debt as unlikely to be repaid. Although banks have set aside massive loan loss provisions, charge-offs actually declined in the month of June. However, that encouraging trend may be short-lived. It's likely that government stimulus measures have simply delayed the inevitable cliff, unless we are able to return to normalcy soon (or pass another extension). Surveys of borrowers show that a meaningful chunk of stimulus checks—approximately 25 percent—went to paying down debt. As a result, interest in online loans waned in recent months.
Trading: We're easing into the stock market, for better or worse
After more than 10 years of a steady growth in the stock market, 2020 has been one of the most tumultuous years of trading activity in the public markets. We've ricocheted from daily all-time highs in the first few months of the year to a sharp, 35 percent drop in the market in March, back to all-time highs in August. Trading platforms such as Robinhood, Stash, and others are making a play for young and first-time traders with commission-free, mobile-first, easy to use products. And older brokerages are eager to compete by offering perks like fractional shares and free trades. As a result, the major brokerage platforms have seen significant growth in both trading volume and new account creation over the past six months.
To read the entire article click here.